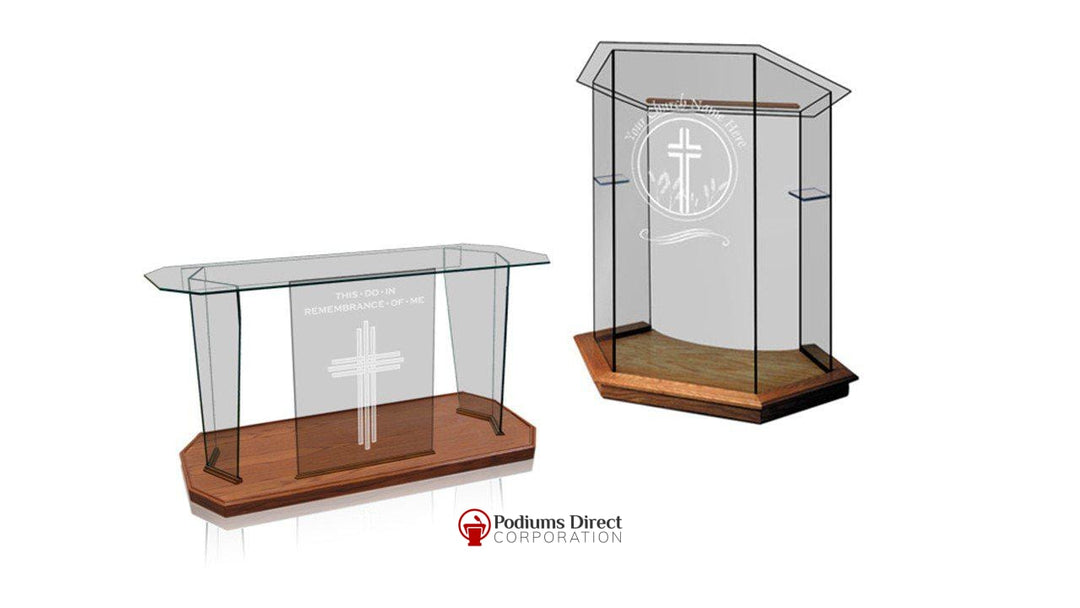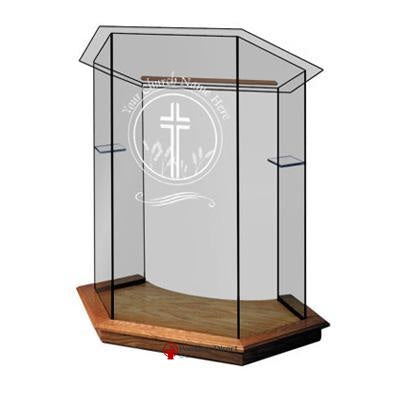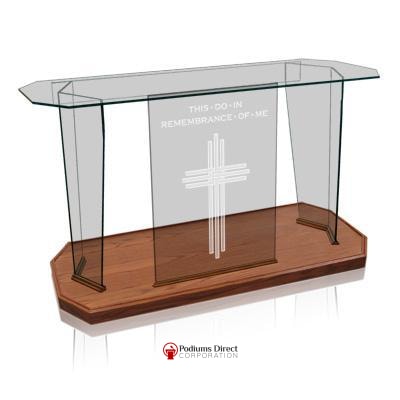 Church Pulpit Set NC10 FOUNDATION - FREE SHIPPING!
NC10 Set
Regular price
$5,805.00
Sale price
$4,975.00
/
PodiumsDirect Part # (SKU): NC10 Set
These are custom made to order and can not be cancelled or returned.
Approximate lead time is 10 - 12 weeks from receipt of order. Lead times are subject to change without notice due to production schedule.
---
FREE SHIPPING! 

NC10/NC10G TWO PIECE PULPIT SET

The Set includes; One NC10 Pulpit, One NC41 60"Communion Table 
Our Foundation Pulpit Set is a timeless classic, with traditional design, crafted in contemporary glass, which allows your congregation an unhindered view of the worship service.
Dimensions: NC10/NC10G FOUNDATION Pulpit Dimensions: 41"W x 25"D x 46"H (audience side) 40" (presenter side) Top: 41"W x 26"D NC41/NC41G Communion Table Dimensions: 60"W x 24"D x 33.5"H
Weight: Pulpit: 145 Lbs. Communion Table" 100 Lbs.
Material: 3/8" Architectural Glass
Bookrest: Oak Wood (Pulpit Only)
Base: Oak Wood

Stain or Color Information:
Stain Colors Available:
Natural
Black Lacquer
Bombay Mahogany
Ebony
Jacobean
Early American
English Chestnut
Golden Oak
Red Mahogany
Red Oak

Please note that the representation of color hues and tones on computer screens may vary between individual computers.

We highly recommend actual stain samples be requested.

NOTE: Different species of wood, and oftentimes different pieces of the same species of wood, will "take" the same stain differently; and thus, produce varying effects in depth and tone of color.

Fabric Colors:
Stock Status:
Available - Please review Lead Times
Assembly Instructions:
All Items Ship Fully Assembled
Features:
Pulpit Features:
Free Custom Etched Logo in Glass Front Panel
Oak Book Rest
Oak Base with Recessed Casters (Wheels)
(2) Corner Shelves
Clear Glass


Communion Table Features:
Oak Base with Recessed Casters (Wheels)
Clear Glass
Options:
Choice of Stain Color
Color Fill of Etching (Pulpit Only) ($100.00 per Color)
Microphone Holder Kit (Pulpit Only)


Communion Table Optional Scripture:
Select one of the following standard scriptures or choose your own up to 30 characters in length.
"Do This In Remembrance Of Me"
"This Do In Remembrance Of Me"
"En Memoria De Mi
Technical Specifications:
N/A
Logo Artwork Information:
Logo Artwork

We can only accept Microsoft Windows formatted documents.
We support only Adobe Illustrator.
Files should be vector and EPS files must be included.
Files can be sent by the following methods.

E-Mail To: sales@podiumsdirect.com

Logo designs are limited to (3) changes. Any changes made after the initial (3) will be charged per request & per change.

Additional Information:
We Will Beat Or Match Any Price For The Same Item Guaranteed!

Contact us at 800-421-9678 or e-mail: sales@podiumsdirect.com

Hours of Operation 6:00 am - 4:00 pm Monday - Thursday MST Time.

Friday 6:00 am - 2 pm MST Time.

Closed Saturday & Sunday.
Shipping Method: Ships via Freight Truck

---