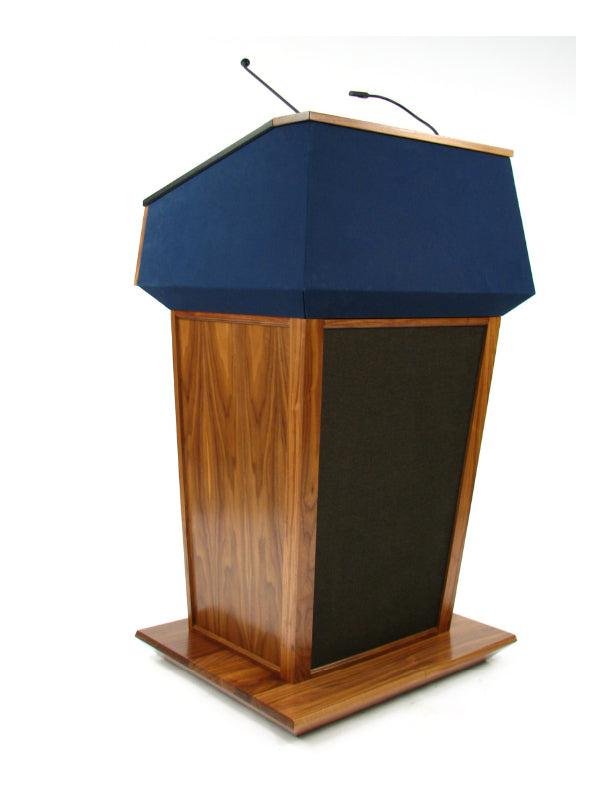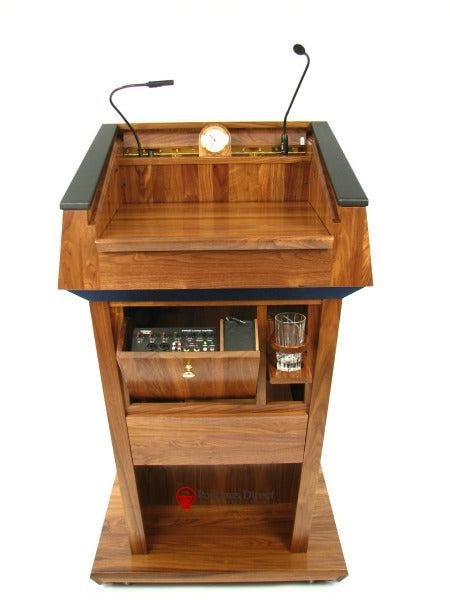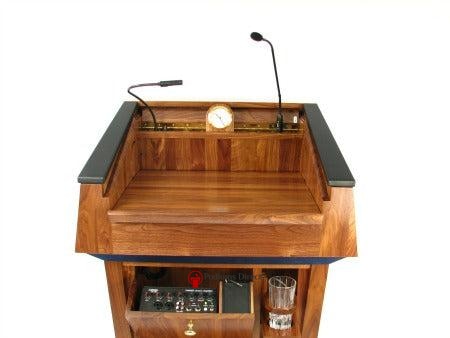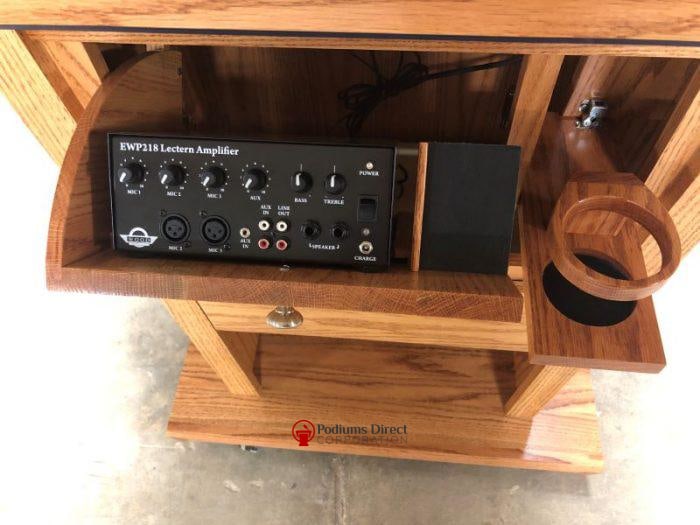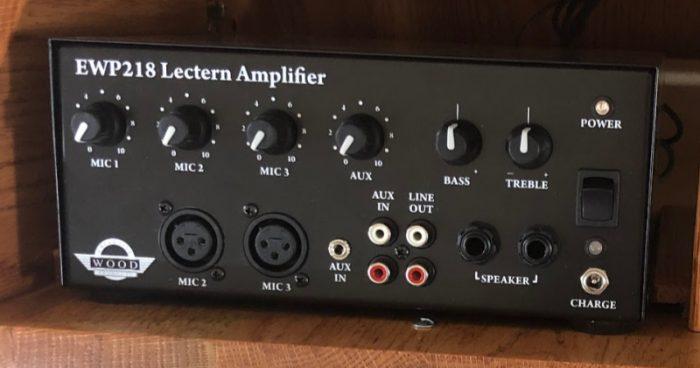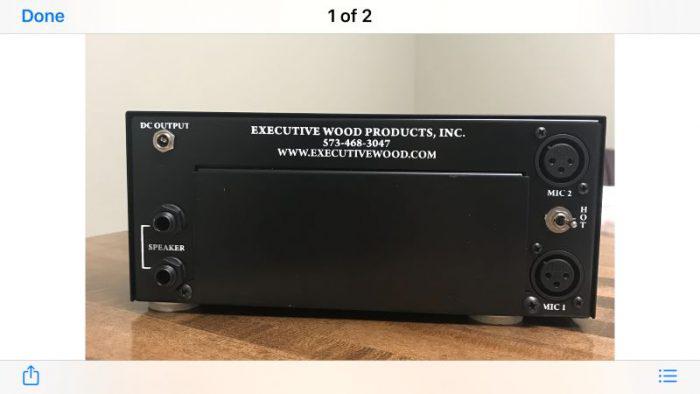 Sound Lectern PRES900-EV Presidential Plus Evolution Podium - FREE SHIPPING!
PRES900-EV
Regular price
$13,824.00
Sale price
$8,500.00
/
PodiumsDirect Part # (SKU): PRES900-EV
These are Custom Built to Order and can not be cancelled or returned.
Approximate lead time is 10 - 12 weeks from receipt of order. Lead times are subject to change without notice due to production schedule.
---
FREE SHIPPING!
Larger than it's companion, Presidential Evolution, the Presidential Plus blends beauty, functionally and innovation seamlessly.
This podium delivers crisp, clear and powerful sound that will fill your venue with clarity.
Dimensions: Overall Dimensions: 30.75"W x 25.75"D x 51"H
Weight: Approximate Weight: 220 Lbs.
Material: Solid Wood
Stain or Color Information:
Wood/Stain Colors Available:
Oak Wood - Light Stain
Oak Wood - Medium Stain
Oak Wood - Dark Stain
Cherry Wood
Mahogany Wood - Light Stain
Mahogany Wood - Medium Stain
Mahogany Wood - Dark Stain
Walnut Wood

NOTE: Different species of wood, and oftentimes different pieces of the same species of wood, will "take" the same stain differently; and thus, produce varying effects in depth and tone of color.
Fabric Colors:
Black, Blue and Red
Protective Hydrotuff Cover: Constructed using 600 x 450 Denier Polyester fabric with Poly Vinyl Chloride (PVC) Coating.
0.60mm Thick
Protective Cover Colors: Black, Blue, Maroon

Stock Status:
Available - Please review Lead Times
Assembly Instructions:
Ships Fully Assembled in a custom foam-board crate to protect it during shipment.
Features:
Supple Leather Handrails
Drop Down Work Surface - Angled to Flat
Shure Microflex 18" Goose-Neck Microphone with Mute Switch
Howard Miller Clock with Matching Solid Wood Clock Housing
18" LED Goose-Neck Light with 3-Way Rotary Switch
Hideaway Feature for Clock, Light and Microphone
Clean Wire-Free Look From Top to Bottom
Tilt-Out Amplifier Station For Easy Access to Controls
MP3 Docking Platform - Leather Lined
RCA Cable for Easy Connection to MP3 or CD Player
100 Watt EWP Lectern Amplifier - Professional Battery Powered Amplifier with Charger
Full Range High Output Duplex Speakers
Tilt-Out Beverage Holder (Glass Not Included)
Dovetail Drawer with Full Extension Slides for Storage
Custom Hydrotuff Cover
(4) Casters (Wheels), (2) Locking
Options:
Choice of Wood/Stain
Choice of Fabric Color
Logo
Protective Cover - offers outstanding wear and performance with some resistance to liquid spills. It is lightweight and very durable which gives the fabric exceptional resistance to abrasion, punctures, and tears.
Protective Cover Colors


Technical Specifications:
EWP218 LECTERN AMPLIFIER STANDARD FEATURES:

100 Watt PMPO (Peak Music Power Output); 25 Watt Peak Power; 13 Watt Continuous RMS

(3) independent XLR microphone inputs

2 of the microphone jacks located in rear of unit for wire-free look to main microphone

Independent volume control for all attached microphones (up to 3)

Bass / Treble tone controls

¼" Jacks for Main speaker output - located in front and rear of unit

Included SLA rechargeable battery for hours of performance

LED indicator to display remaining charge on battery (green, orange, red)

RCA auxiliary input jacks automatically converted stereo to mono

RCA auxiliary output jacks for recording devices

12V lamp plug for connection to LED gooseneck - located in rear of unit

Bass and Treble control +/- 10 db (@100Hz and 10K)

Mic Sensitivity 1mV · Aux input Sensitivity 125mV

DC Output, Phantom Power Supply 12V
Logo Artwork Information:
We can only accept Microsoft Windows formatted documents.
We support only Adobe Illustrator.
Files should be vector and EPS files must be included.
Files can be sent by the following methods.

E-Mail To: sales@podiumsdirect.com

Logo designs are limited to (3) changes. Any changes made after the initial (3) will be charged per request & per change.

Additional Information:
We Will Beat Or Match Any Price For The Same Item Guaranteed!

Contact us at 800-421-9678 or e-mail: sales@podiumsdirect.com

Hours of Operation 6:00 am - 4:00 pm Monday - Thursday MST Time.

Friday 6:00 am - 2 pm MST Time.

Closed Saturday & Sunday.
Shipping Method: Ships via Freight Truck

---